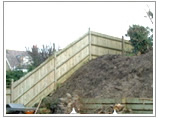 Garden fencing can provide a practical and attractive feature to your garden. It can be used to provide privacy and security, support and shelter to your plants, create divisions within a garden or add colour and decoration.
Various types of fencing are available including closeboarded, panels, chainlink and trellis.
Gates can be made up to any style or size to match fencing and to fit any side access or driveway.